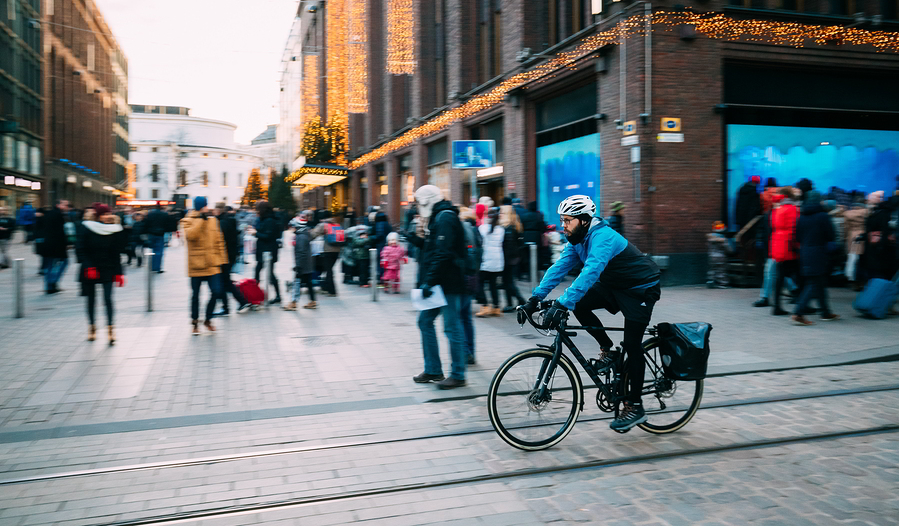 Bicycle Accident Attorney Serving Injured Cyclists from the Tacoma, Federal Way & Bellevue Areas
When a motor vehicle and a bicycle collide, the cyclist loses. Injuries sustained by bike riders range from sprains and multiple broken bones to catastrophic brain and spine injuries to fatalities. Our bicycle accident attorney can make certain victims and their families get the legal support needed in the wake of a crash, and receive the financial compensation they're owed under the law.
The Most Dangerous Intersections for Cyclists
In Seattle, there are dangerous hotspots where multiple (and sometimes dozens) of bike-car collisions have taken place. If the location of your bike accident has a long history of collisions, the property owner or the city may be partially liable for your accident and losses. Our bicycle accident attorney can help determine whether this is the case in your case. The Seattle Times published a list of the 10 most dangerous intersections for bikers according to the numbers of crashes and fatalities in each:
Eastlake Avenue E & Fuhrman Avenue E
2nd Avenue & University Street
Troll Avenue & North 34th Street
NE 45th Street near First Avenue NE
Melrose Avenue & Pine Street
Boylston Avenue & East Pine
2nd Avenue between Union & Pike
15th Avenue NE & NE Pacific Street
Dexter Avenue North near Ward Street
2nd Avenue between University & Union
Most Common Bicycle Accident Types
A common misconception is that the majority of cycling accidents happen because riders don't share the road very well. In truth, bike accidents are more likely to take place because bikers aren't seen by drivers, or because drivers don't know the rules of the road. A few of the most common causes bicycle accident attorneys regularly handle are …
Left turn accidents. One of the most common causes of bike accidents, this occurs almost solely because a vehicle does not see an oncoming biker and turns into the path of a cyclist. Bikers should do all they can to be highly visible.
Right hook accidents. Common when a vehicle is turning right, the driver doesn't check the right rear, and the cyclist is 'hooked' in the turn. This is common even in areas with a dedicated bike lane.
Inattentive driving/distracted driving. Like vehicle-to-vehicle accidents, a growing number of bicycle accidents are caused by driver distraction and inattention, especially involving mobile devices like cell phones.
Poor road design. In the dangerous intersections listed above, many of the accidents are at least in part due to poor road design such as having a parking garage exit spill into a bike lane. Sometimes a municipality or property owner can be found at fault.
Speeding and reckless driving. Speeding and ignoring the rules of the road can be deadly for cyclists. Speeding vehicles have trouble stopping for bikers, and reckless drivers may swerve into a bike lane or fail to see an oncoming cyclist.
Driving/riding under the influence. Both drunk drivers and drunk cyclists can cause crashes, and recent studies have found that almost one in three cyclists who are injured in crashes have been imbibing before they bike. While it's not likely you'll be arrested for biking under the influence, you could cause your own catastrophic accident.
Door accidents. Many cyclists using bike lanes let down their guard watching for people parked on the side of the road who don't look in their mirrors before opening their driver-side door. The result is 'dooring' accidents, in which a rider slams into a car's opening door (and sometimes the driver).
Bicycle Accidents Often Result in Catastrophic Injuries
Bike riding has the advantages of being economical, green, and providing great exercise. But the downside is when a bike rider collides with a motor vehicle, the results can be tragic. Cyclists wear minimal protective gear, and when coming into contact with a vehicle, object, or road surface at great force, catastrophes can occur. While not wearing a bike helmet greatly increases the chance of death or traumatic brain injury, even helmeted riders can suffer catastrophic injuries in a collision, especially if one or both vehicles were traveling at higher rates of speed. The following injuries are common in Federal Way biking accidents:
Concussion
Traumatic brain injury
Back, neck & spine injury
Blunt force injury
Broken & fractured bones
Shoulder, arm & hand injury
Leg & foot injury
Internal organ injury
Winning Compensation for Your Bike Accident Injury
If you weren't at fault for your bicycle accident, the party or parties who caused it are legally responsible for all related damages including:
Accident-related medical bills, past & future
Lost wages, including lost future wages
Pain, trauma & suffering
Property damages such as your wrecked bike
An experienced bicycle accident attorney can help determine the monetary value of your losses and help you acquire that compensation, whether through a private settlement or through the court system.
Our Bicycle Injury Attorneys Can Help
Seattle has been ranked highly among the safest cities in the country for cyclists and pedestrians. Even so, over the last decade there've been more than 3,800 collisions between automobiles and bicycles within the Seattle city limits, and thousands more in the surrounding areas. The bicycle accident attorney at The Ye Law Firm is here to help. Our firm also provides legal assistance with other types of personal injury accidents including car accidents, pedestrian accidents, motorcycle accidents, catastrophic injuries and Underinsured Motorists claims. We offer free, private consultations either in our office or over the phone. Call us today if you've been injured through no fault of your own.
Experienced Bicycle Accident Attorney Serving Bikers from the Tacoma, Federal Way & Bellevue Areas
Serving King, Snohomish & Pierce Counties including Federal Way, Bellevue, Seattle, Renton, Kent, Auburn, Bonney Lake, Burien, Des Moines, University Place, Puyallup & Tacoma