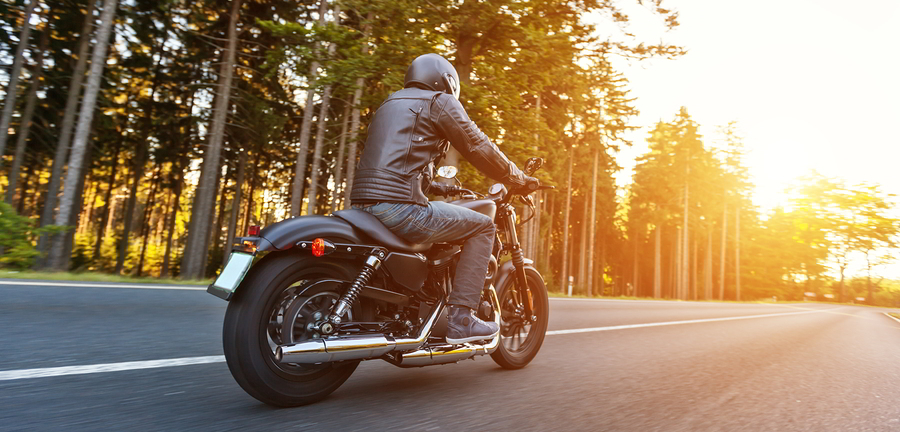 Experienced Motorcycle Accident Attorney Serving Injured Clients from the Tacoma, Federal Way & Bellevue Areas
If you or a loved one have been seriously injured in a motorcycle accident in Washington state, it's vital to know your rights. The expert motorcycle accident attorney at The Ye Law Firm is committed to helping you understand who was at fault, determine just damages, win your claim, and get the compensation you deserve under the law.
Helping Injury Victims Get Back on Their Feet
Often due to stereotypes, motorcycle riders are blamed for accidents and injuries. But according to the famous Hurt Report that analyzed thousands of motorcycle-larger vehicle accidents, the majority of collisions are the non-motorcycle vehicle driver's fault. After a serious motorcycle accident that results in catastrophic injuries, it's important to find an experienced motorcycle accident attorney who's won many cases in this practice area.
Motorcycle accidents result in more serious injuries. Riders aren't protected by the steel cage or airbags of a car or truck, and aren't restrained by a seat belt. The rider's body may be directly impacted during a collision, either by another vehicle or by the ground, potentially causing severe head, spine and/or internal injuries, multiple broken bones, coma or death.
Motorcyclists face discrimination and bias. The general public has misconceptions about motorcycle riders; that they're gang members, they speed, they ride under the influence, etc. In reality, most motorcycle riders are responsible, careful, and respect the rules of the road.
For these reasons, it's key to ask your potential motorcycle accident attorney how many motorcycle cases they've taken on and won, as well as how they approach motorcycle injury claims.
Common Causes of Motorcycle Accidents
Left turn accidents. Most motorcycle accidents happen because another driver doesn't see them coming. In these cases a driver may turn left across traffic and directly into the path of an oncoming motorcycle.
Lane change accidents. Again because another driver looking for other large vehicles doesn't look carefully enough to see a motorcycle, changing lanes into the path of a motorcycle is common.
Distracted driving accidents. Drivers distracted by mobile devices, the radio, food or passengers are much less likely to see an approaching motorcycle. Distracted drivers may also accidentally drift into the path of a motorcycle and cause a collision.
Speeding and reckless driving. Speeding and breaking other traffic laws can lead to crashes with catastrophic results. High-speed collisions involving motorcycles often involve fatalities or traumatic injuries.
Dooring accidents. Sometimes the driver of a parked car on the side of the road will open the door without seeing an oncoming motorcycle, resulting in a collision.
Drinking and driving accidents. As with all vehicular accidents, drinking and/or drugging and driving is involved in one out of three crashes.
Road hazards and inclement weather. Because motorcycles only have two wheels, they're very susceptible to poor road design and condition. From deep grooves to potholes to ice, things on the road that may not be a problem for a four-wheeled vehicle can cause a serious accident on a motorcycle.
Inexperienced riders. A significant number of motorcycle accidents are due to inexperienced riders. Washington state requires riders to have a separate motorcycle license and pass a motorcycle driving test.
Defective vehicle parts. Some accidents and injuries are caused by a defective helmet or faulty parts on the motorcycle or other involved vehicle.
Remember that the cause of your motorcycle accident may not be clear or apparent at the time of the crash. Never assume you were at fault until you have the accident report and had a motorcycle accident attorney review your case.
Common Motorcycle Accident Injuries
Head and neck
Back and spine
Broken bones
Internal injuries
Hand and arm
Leg and foot
Motorcycle Accident Compensation
Depending on the severity of your injuries and how they affect your life and your family, an experienced motorcycle accident attorney will seek damages for:
Past and future medical bills
Past and future lost wages
Pain and suffering
Loss of consortium & quality of life
Motorcycle property damage
Our Motorcycle Injury Attorney Can Help
Are you hesitating to contact an attorney because you're unsure whether you have a valid motorcycle accident personal injury claim? Call The Ye Law Firm for a no-obligation talk with an experienced attorney to get your legal questions answered. Our motorcycle accident attorney offers motorcycle accident victims and their families a free case review so you know how to move forward – even if that means not pursuing your case. Our firm also provides legal assistance with car, pedestrian and bicycle accidents, as well as brain injuries and Underinsured Motorists. Call us today.
Motorcycle Accident Attorney Supporting Injured Victims from the Tacoma, Federal Way & Bellevue Areas
Serving King, Snohomish & Pierce Counties including Federal Way, Bellevue, Seattle, Renton, Kent, Auburn, Bonney Lake, Burien, Des Moines, University Place, Puyallup & Tacoma